Fee Payment Information
Fees: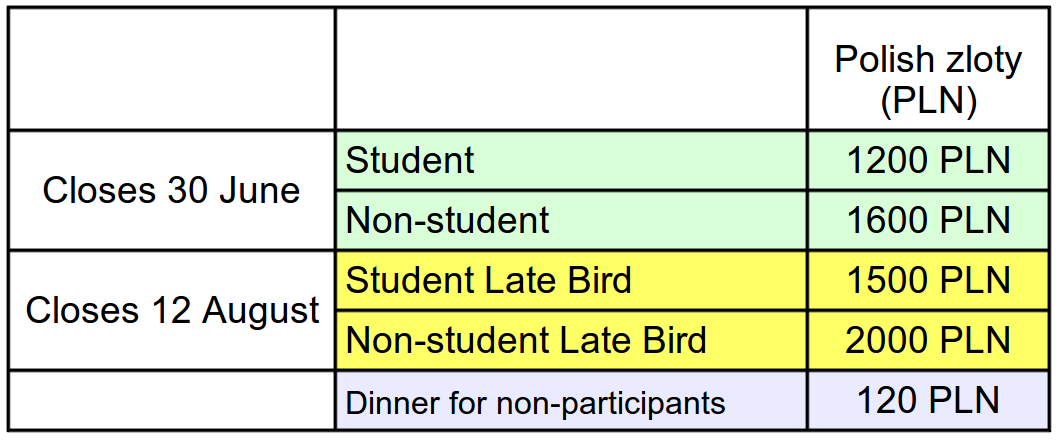 Presently, the conversion rate is approximately 4.0 PLN to one Euro or US Dollar.

Payment by bank transfer:
Transfer the fee to the following account of the Institute of Physics, Polish Academy of Sciences,
with the annotation: [YOUR NAME] - FINESS 2015 Conference
Important: In some cases banks may deduct a transfer fee from the instructed amount, for example if your account is not in Euro or if your country is not part of the EU. Please remember to indicate that all charges are to be borne by the paying account, NOT the receiving account, to ensure that we receive the correct amount.
Account holder
Instytut Fizyki PAN
Al. Lotnikow 32/46
02-668 Warszawa
Poland
Bank
Bank Gospodarstwa Krajowego
Al. Jerozolimskie 7
00-955 Warszawa
Poland
Currency
Polish Zloty (PLN)
Account number (IBAN)
PL 89 1130 1017 0013 4373 9820 0025
Bank code (SWIFT)
GOSKPLPW
Annotation ( important! )
[YOUR NAME] - FINESS 2015 Conference
Payment by credit card:
Please use this pdf form.
Print it, fill it out with your details, and fax or mail (not email) to IF PAN at the following address:
FAX: +48 22 843 0926
MAIL:
Instytut Fizyki PAN
Al. Lotników 32/46
02-668 Warszawa
POLAND
---
Program Committee

Local Organiser and Chair:
Piotr Deuar (Institute of Physics, Polish Academy of Sciences, Warsaw, Poland)
International chair:
Andrew Daley (University of Strathclyde, Glasgow, UK)
Nick Proukakis (University of Newcastle, UK)
Immanuel Bloch (Max-Planck-Institut für Quantenoptik, Germany)
Simon Gardiner (University of Durham, UK)
Marzena Szymanska (Universty College London, UK)
Thomas Gasenzer (Heidelberg University, Germany)
Kazimierz Rzążewski (CFT PAN, Polish Academy of Sciences, Poland)
Ashton Bradley (University of Otago, New Zealand)
Mariusz Gajda (IF PAN, Polish Academy of Sciences, Poland)
Michael Fleischhauer (Kaiserslautern University of Technology, Germany)
Luis Santos (University of Hannover, Germany)

Organisers

Piotr Deuar (IF PAN, Polish Academy of Sciences)
Mariusz Gajda (IF PAN, Polish Academy of Sciences)
Kazimierz Rzążewski (CFT PAN, Polish Academy of Sciences)
Mirosław Brewczyk (University of Białystok)
Tomasz Świsłocki (IF PAN, Polish Academy of Sciences)
Krzysztof Pawłowski (CFT PAN, Polish Academy of Sciences)
Maciej Zajączkowski (IF PAN, Polish Academy of Sciences)
Joanna Pietraszewicz (IF PAN, Polish Academy of Sciences)
Nataliya Bobrovska (IF PAN, Polish Academy of Sciences)
Michał Kulczykowski (IF PAN, Polish Academy of Sciences)

Contact