Sopot
Sopot is a small yet well-known spa-town on the baltic coast in Poland. It is the third city of the "tri-city" of which the well-known historical city of Gdańsk is the large city, Gdynia the medium one, and Sopot, sitting in between them in the woods on the beach, the small one.

Here is a map showing the area: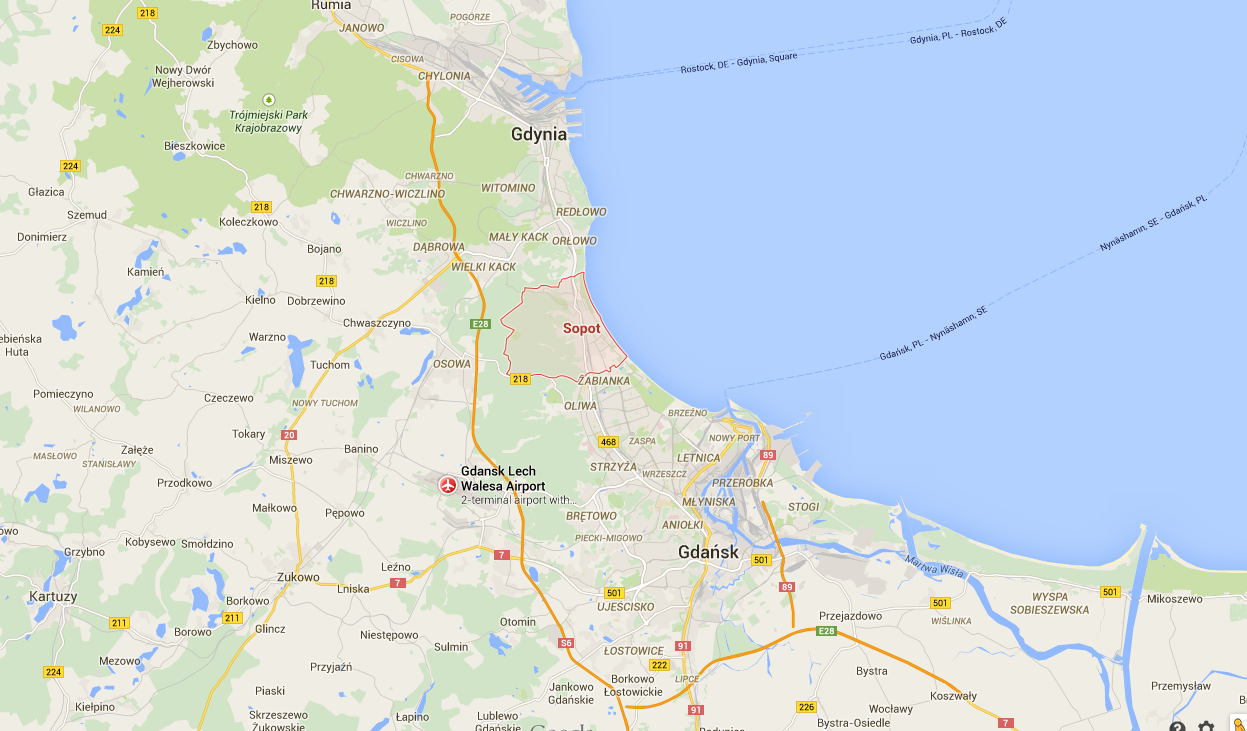 And, this is a photo from the center of town, along with the 0.55 ± 0.1 km long wooden pier, the longest such in Europe.

| | |
| --- | --- |
| | Diego Delso, Wikimedia Commons, License CC-BY-SA 3.0 |
Here is a detailed map of Sopot: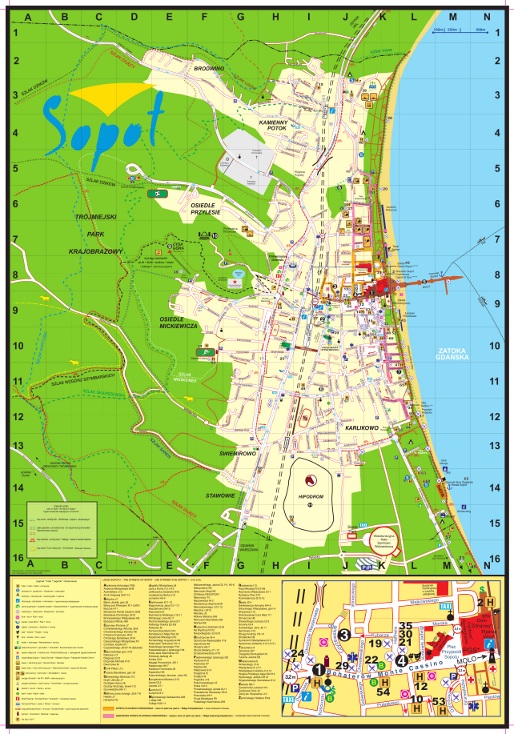 Public transport to places around the tri-city area is probably best investigated using this route planner.
A summary of the weather in the area can be found e.g. here.
Getting there from the airport
Sopot is actually quite close to the Gdańsk International Airport - about 20 km by road.
The airport has direct connections to many European cities. An up-to date map of them can be found here.
By taxi
Taxis can be easily found at the airport.
The fare should be around 60-70 PLN (about 15 USD or 20 EUR).
The Hotel address is:

Hotel Haffner
Ulica Haffnera 59
81-715 Sopot

By train
A new train line to the airport has been opened recently that runs approximately every 15 minutes. To get to the Conference you have to make one changeover.
First take the PKM train in the direction of Gdańsk to the stop Gdańsk Wrzeszcz (7th stop).
Second take the SKM train in the direction of Gdynia or Wejherowo (i.e the opposite direction to Gdańsk) to Sopot station (Just Sopot, not to be confused with the earlier Sopot-Wyścigi or later Sopot-Kamienny Potok stations which would entail more lengthy walks). This is the 6th stop.
Here is the location of the train station relative to the hotel (both circled in purple):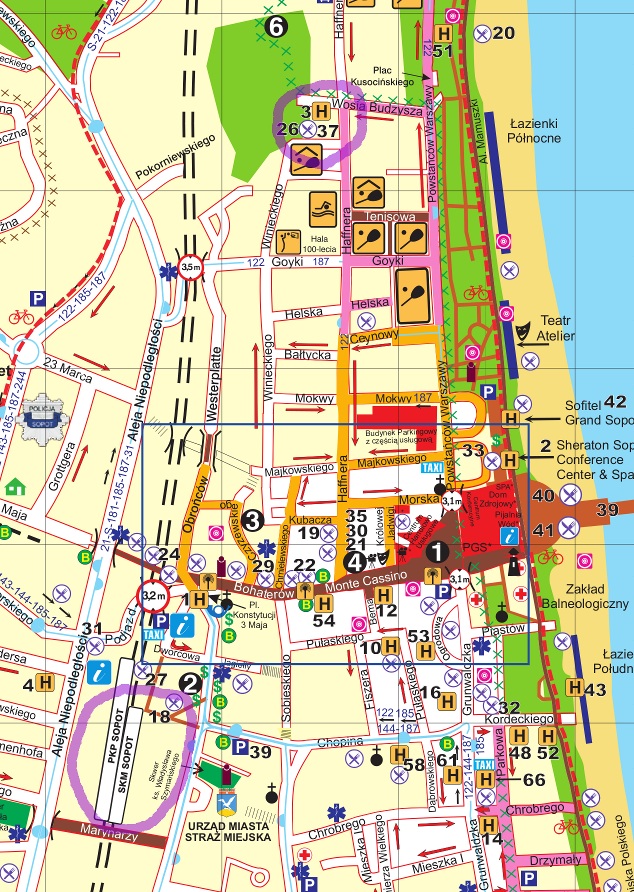 Tickets can be bought at the SKM ticket machine or counter at the airport, and cost several PLN.
By bus
There is a direct public bus (number 122 - see here for a schedule ) between the airport and Sopot about once per hour.
You want to get off at the stop Sopot Korty Tenisowe (i.e. Sopot tennis courts) which is a stop on demand, i.e. you probably have to press the stop button in the bus.
Here is the location of the stop relative to the hotel: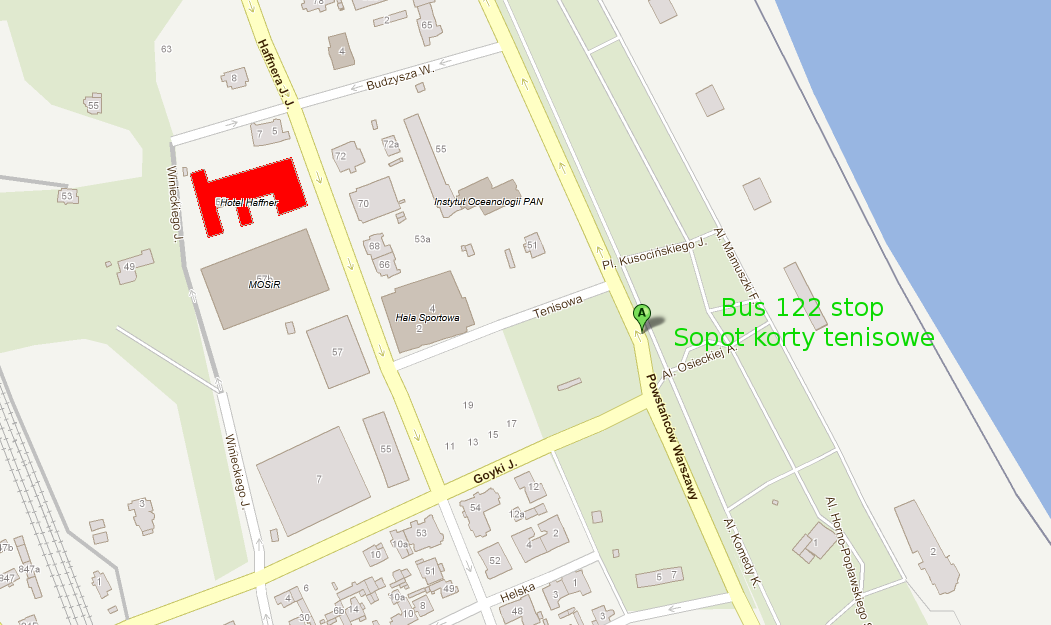 The ticket costs 3 PLN, should be validated upon entering the bus, and can be bought at kiosks or vending machines. There is one at the airport.
By car
Should you rent a car at the airport, there are several ways to go, as per this route planner: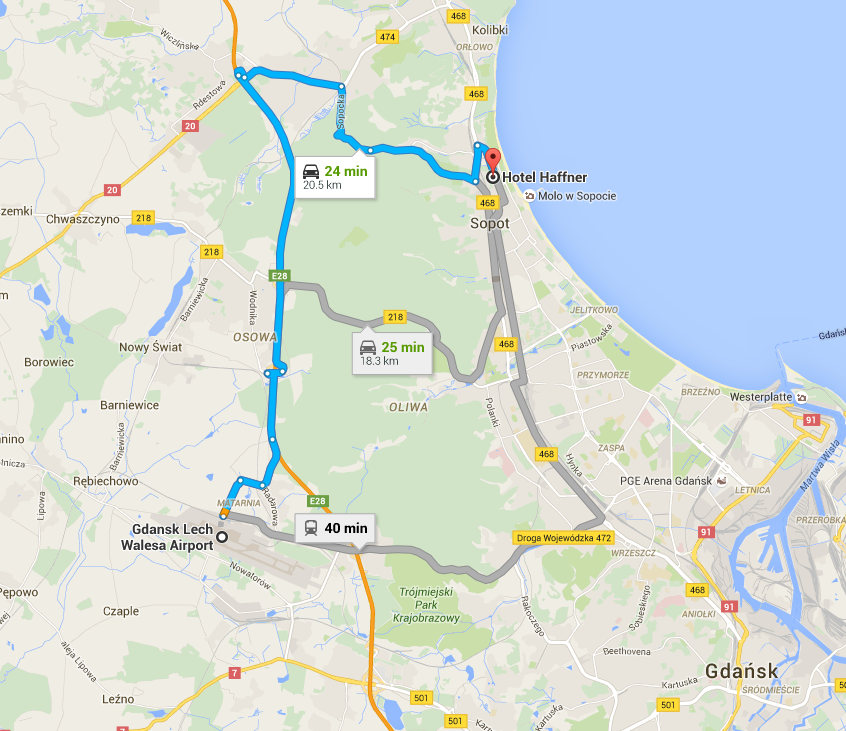 :
---
Program Committee

Local Organiser and Chair:
Piotr Deuar (Institute of Physics, Polish Academy of Sciences, Warsaw, Poland)
International chair:
Andrew Daley (University of Strathclyde, Glasgow, UK)
Nick Proukakis (University of Newcastle, UK)
Immanuel Bloch (Max-Planck-Institut für Quantenoptik, Germany)
Simon Gardiner (University of Durham, UK)
Marzena Szymanska (Universty College London, UK)
Thomas Gasenzer (Heidelberg University, Germany)
Kazimierz Rzążewski (CFT PAN, Polish Academy of Sciences, Poland)
Ashton Bradley (University of Otago, New Zealand)
Mariusz Gajda (IF PAN, Polish Academy of Sciences, Poland)
Michael Fleischhauer (Kaiserslautern University of Technology, Germany)
Luis Santos (University of Hannover, Germany)

Organisers

Piotr Deuar (IF PAN, Polish Academy of Sciences)
Mariusz Gajda (IF PAN, Polish Academy of Sciences)
Kazimierz Rzążewski (CFT PAN, Polish Academy of Sciences)
Mirosław Brewczyk (University of Białystok)
Tomasz Świsłocki (IF PAN, Polish Academy of Sciences)
Krzysztof Pawłowski (CFT PAN, Polish Academy of Sciences)
Maciej Zajączkowski (IF PAN, Polish Academy of Sciences)
Joanna Pietraszewicz (IF PAN, Polish Academy of Sciences)
Nataliya Bobrovska (IF PAN, Polish Academy of Sciences)
Michał Kulczykowski (IF PAN, Polish Academy of Sciences)

Contact